BE WHERE
YOUR CUSTOMERS ARE
THE POINT OF EXPERIENCE
BECOMES YOUR D2C SALES CHANNEL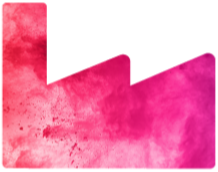 With Scalerion, you use local intermediaries in Germany to present your products and thus make the special nature of your products come alive. Customer access against commission - it's that simple!
Products directly purchasable in the emotion
Stationary experience, without any risks
Additional sales, more visibility
| | |
| --- | --- |
| | Complete purchase process via Scalerion |
| | No ongoing costs, 100% performance-based remuneration |
| | Significant reduction in return rates |
| | Easy integration, fast onboarding |
| | Can be used in parallel with existing processes |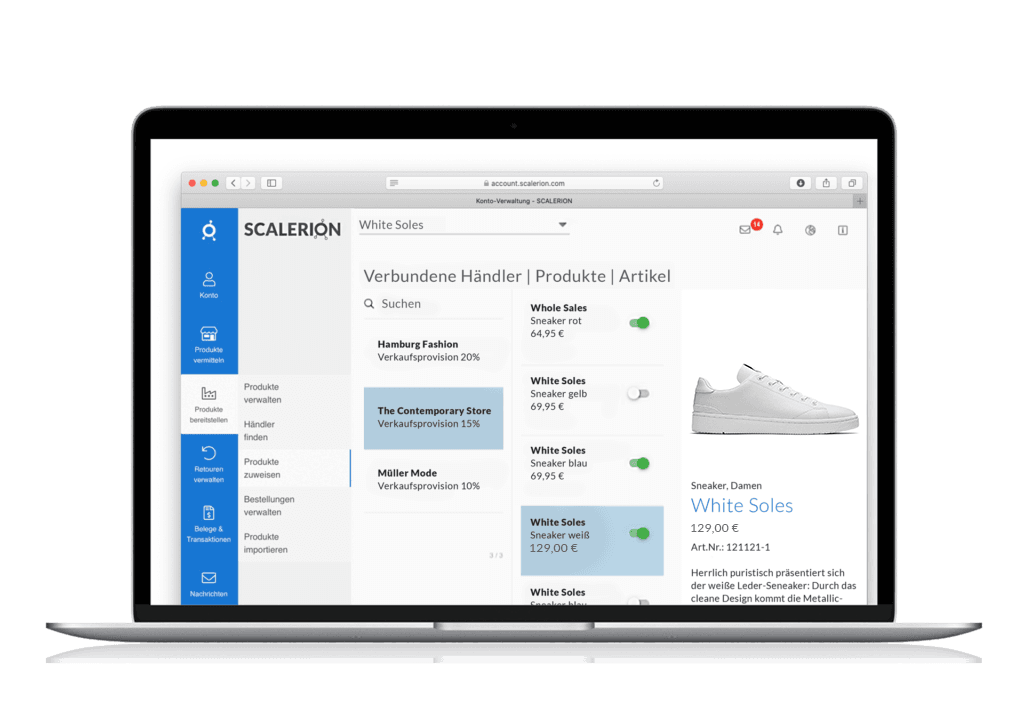 1. REGISTRATION
| | |
| --- | --- |
| | Register and store company data |
| | Provide product data |
| | Connect with local intermediaries |
| | Individually release products and set commissions |
2. EXPERIENCE
| | |
| --- | --- |
| | Intermediaries receive individual QR codes |
| | Local product presentation & advice from intermediaries |
| | Scanning by end customer directly starts an order |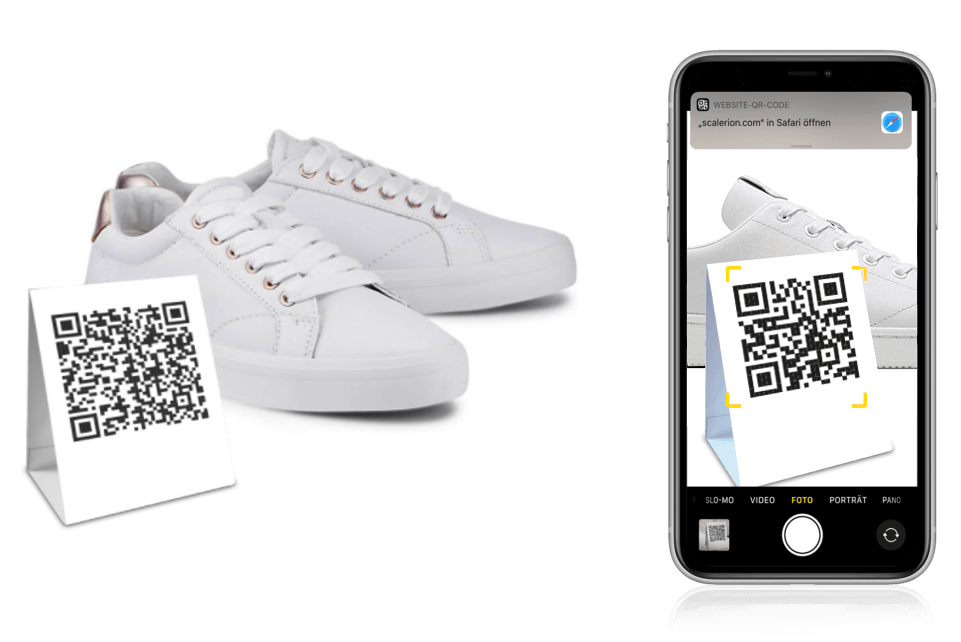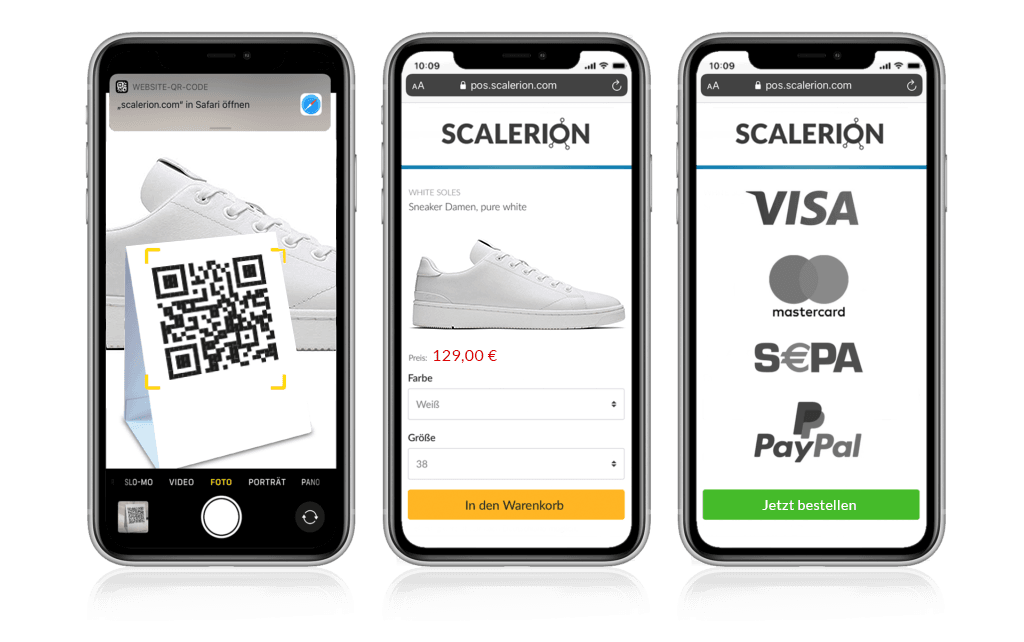 3. ORDER
| | |
| --- | --- |
| | With the customer's smartphone |
| | Without installation, without account |
| | Scalerion processes all transaction data & payments of customers |
| | Transferred orders are guaranteed (factoring by Scalerion) |
4. PAYOUTS
| | |
| --- | --- |
| | Collection and distribution of purchase amounts centrally by Scalerion |
| | Direct commission settlement on a transaction basis |
| | Creation of all documents |
| | Weekly payouts through certified payment service provider |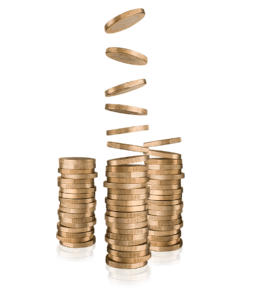 Which manufacturers can use Scalerion?

All. It does not matter how many or what products are made - the only important thing is that you can serve individual customers directly.
What requirements do I have to meet to be able to use Scalerion as a manufacturer?

As a manufacturer, you must have a registered company with a VAT ID within the European Union (EU). Furthermore, you must be able to ship your products directly to end customers in Germany. For receiving your payouts you'll have to provide a bank account within the EU.
What added value does Scalerion give me as a manufacturer?

You get the opportunity to sell directly to end customers in Germany using well-established stationary retailers. This way, you can speed up your sales in Germany much faster than with a traditional wholesale approach where you first must gain local partners willing to buy your products on their own risk.
Is Scalerion an online store? I already have an online store - why should I use Scalerion?

No, we don't build online stores AND Scalerion is not an either/or solution. You already have a well-functioning online store? - Great. Direct customer access through an established dealer in different cities but not or only a little? Then you should contact us, because through us you can easily network with a wide variety of dealers and expand your D2C business easily, quickly and sustainably.
What manufacturer-specific information is needed to create my business?

In addition to general company information, onboarding requires your T&Cs, cancellation policy, and privacy notice - this information is displayed to end customers during the sales process and is also part of the order confirmations sent out.
How can I integrate my existing online store / ERP with Scalerion?

We offer a wide range of integration options, both for very small companies and for large corporations - our integration guide provides you with all the information you need.
What data is exchanged between me and the Scalerion platform?

Our integration guide provides you with all the information you need in this regard; in summary, the following information is exchanged:
Product data: Information about the purchasable items (title, description, price, images ...) as well as stock levels.
Orders: Successful purchases with order and customer data
Returns: Registered returns requests from end customers
Commission documents: Overview and detailed statements of all paid commissions


Are item inventories updated at Scalerion?

Yes. If you provide us with a specific inventory for an item, we will update it accordingly with each sale made. If we receive updated inventory data from you, it will be applied as the new inventory value.
With whom does the end customer enter into a purchase contract? Who issues the invoice?

The customer enters into a purchase contract with the corresponding supplier for each item ordered. The customer receives an order confirmation from Scalerion, and you as the supplier then issue the customer invoice.
How can a customer order an item?

Customers can initiate the purchase completely independently with their smartphone. To do this, customers can either scan the QR code of an item or receive a corresponding product link, for example via social media.
What means of payment can a customer use?

The customer can conveniently pay at the end of his order by credit card, by direct debit or via PayPal.
Is installation or registration by the customer necessary?

No. A QR code or product link leads to a responsive website where the complete purchase can be made without installing an app or any necessary registration.
Can multiple items be ordered in one purchase?

Yes, additional QR codes can be scanned both from a product view and from the shopping cart. Alternatively, it is also possible to jump to the product overview page of the agent at any time in order to add further items to the shopping cart there.
What happens if an item is no longer available?

Access to the article by end customers is still possible (product details are displayed), but the article can no longer be added to the shopping cart. If, during the purchase process, the item is no longer available (because another customer was faster), the customer is notified of this and cannot make a purchase.
Is it possible to pick up the goods?

This depends on the selected delivery options of the supplier. Basically, Scalerion supports the delivery of goods as well as the collection either from the intermediary or from you as the supplier directly.
What are the costs for an order?

In addition to the commissions for the agent and Scalerion, a transaction fee is charged depending on the customer's payment method. Here, we offer different options to optimally map your requirements in terms of average shopping cart size and sales volume.
Where can orders be viewed?

All orders can be viewed by you at any time via our platform. In addition, the order data is made available to you according to the selected integration option.
What are the costs for a return?

No additional costs will be incurred by us.
How can I view and process open return requests?

In our returns module you have access to a calendar view with all existing returns requests as well as the information by when they have to be processed.
How can I respond to a return request and what are the consequences?

You can accept a return (goods have been received correctly and the return is valid) or reject it (e.g. no goods received, goods damaged, ...). In case of a return acceptance, the commission credits to the agent and to Scalerion for the returned items will be cancelled.